Introduction
Welcome to our list of 30+ Different Types of Bacon from around the world. So why the H.. have we taken the time to gather this huge list of different kinds of bacon? Well, we love bacon and most people love bacon. In recent years, more and more types of bacon have seen the light of day.
Lately, Bacon has rightfully been honored as the star of many recipes. But since some people don't eat regular bacon due to religious reasons there have been found substitutes as you can see here below. Another reason is vegetarians, even thou they don't want to eat meat they still want to get the taste of bacon, and that is also why multiple types of Vegan Bacon has seen the light.
So, what if you are limiting yourself to just one type of bacon. That sounds horrifying, right? However, it's a sad fate and a fact of life that most people are limiting themselves to eating only one type of bacon. That's just outright horrifying.
There are tons of different types of bacon from around the world, so you just have to find out what kind you that you want to try out. So, let's eat some delicious bacon so we can get as many types of bacon right in front of you.
We have compiled this list so that you are able to see most types of bacon
and perhaps be inspired to try new things so
Enjoy!
---
1. Regular Bacon
We all know of regular bacon. It is the basic reason why I even started making this site, my love for Bacon. So not much is needed to be said this.
Bacon is absolutely delicious. The way that it sizzles in the frying pan right before it goes into your mouth. This is especially true if you haven't had bacon in a while. Then the bacon is even more delicious and tasty. It is simply one of the most treasured foods out in existence. Bacon makes friends.
---
2. Lamb Bacon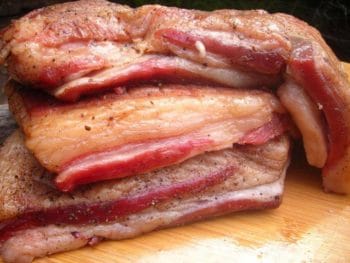 What is Lamb Bacon
As you might have guessed with this long list the word "bacon" is no longer only pork meat. Now you can make bacon out of a lot of meat and meat substitutes. And that being said Lamb is no exception, with its salted, smoked and sliced it is a dream.
It is quickly becoming very popular around the world and even been honored a place on New York's Bar Bacon.  The Smoking Goose also produces lamb bacon, hot smoked over applewood after being rubbed with salt, brown sugar, and maple sugar. 
Rich and strong in lamb flavor it compares really good to pork bacon, so if you like lamb then you will most likely also love this. It is likely that we will see a big rise in sales of lamb bacon in the future.
---
3. Turkey Bacon
What is Turkey Bacon
Turkey Bacon is the low fat halal and kosher variation of bacon. It has the same salty flavor and it is good for those who due to religious and dietary reasons can't eat regular bacon. It only contains around 10% fat.
Read our Article on Halal Bacon Here
As opposed to regular bacon, turkey bacon is smoked, chopped and then reformed into strips. This also makes it so that the bacon doesn't shrink as much during cooking. It is a good substitute if you are making a good BLT club or a good sandwich where the smoky flavor comes to its right.
But it isn't the best to serve next to you scrambled eggs the taste is fine but it feels like is missing. Also, remember to check out the Duck bacon below if you are looking for bird bacon.
---
4. Duck Bacon
What is Duck Bacon
Now that we are in the area of birds and bacon we can't really get past Duck Bacon can we. Duck Bacon is made from the breasts of Moulard Ducks. Unlike Turkey Bacon, this isn't chopped up and reformed, this is made from Duck Breast which gives some really good pieces of meat.
The most popular variety is uncured and produced by D'Artagnan, The breast is rubbed with salt and sugar and then smoked. The result is smoky with a great meaty texture, and it is supremely versatile.
Smoked duck breast, in general, is pretty great. It comes in the same thin slices as pork bacon and has the same meaty flavor without the fat. Again a great substitute for those who due to religious and dietary reasons can't eat regular bacon.
Read our Article on Duck Bacon Here
---
5. Venison Bacon
What is Venison Bacon
Venison bacon is beginning to become popular especially around hunters. But there is also a company called Curleys that has started
Venison bacon is pretty popular in certain circles (especially hunters), and a company called Curley's even sells a package with curing salt, seasonings, and instructions. Just about every version calls for a combination of ground venison, ground pork, and pork fat to offset the leanness of the deer, and from what we can gather the resulting product is pretty delicious. Certainly not kosher, though.
Venison bacon is rarely found in supermarkets but can be easily made at home. It is a mixture of deer meat, pork meat, and pork fat and makes a flavorful substitute for traditional pork bacon.
---
6. Elk Bacon
What is Elk Bacon
Elk meat is notoriously tasty and delicious. Elk bacon is one of the most prime versions of beef that you can have the pleasure of eating. Sweet and it's often compared to beef. Elk bacon is an odd type of bacon because so much of it relies more on the preparation of the meat itself rather than the actual cooking. The cooking of the elk meat is more reliant on how you prepared the elk meat itself as opposed to how you cook it. In fact, it doesn't taste "gamey" at all.
The most important thing that you need to do when you are cooking with elk is to keep the elk meat as moisturized as possible. This sounds a bit weird if you are the type of person that wants their Bacon crisp, but with elk meat, you will lose some of the great flavors if you cook it to a crisp. We don't want to lose its delicious flavor, do we?
Keeping your elk bacon kept closer to a rare condition when cooking then you should be fine with the elk bacon.
Eating elk meat also has a lot of benefits, it is naturally high in protein and low in fat, but another great benefit is that it is, free of growth hormones. Since it normally comes from the semi-wild game. So, you are eating a low-carb, high-protein diet, then elk meat would be best for you to try out.
---
7. Speck Bacon
What is Speck Bacon
Speck, the English word for "fat", has been around since the early 17th Century. Of course, you're not here for a language lesson.
You're here to find out what speck and how you can eat it. Speck changes from the various regions it comes from that is why a lot of the variations have a PGI stamp on it to ensure that each type of bacon is genuine to their variation of it. This also means that with multiple recipes there is a good amount of bacon for you to try out, that is if you don't find enough here on the page.
Some Jewish delis in the United States sell a beef product they call speck. It is made from the top layer of fat cut from a pickled brisket, dusted in paprika, double smoked and then grilled. It is then sliced and either served on its own, traditionally on rye bread with mustard, or combined with another sliced meat in a sandwich.   Now, doesn't that sound delicious?
---
8. Gypsy Bacon / Zigeunerspeck
What is Gypsy Bacon
Perhaps, you are looking to enjoy an oldie but good version of pork bacon. Also known as Zigeunerspeck, you will be able to find Gypsy Baco in German or Hungarian delis or meat markets. It's precooked with raw garlic and paprika, and then smoked giving it a rich flavor and delicate yet intense taste. It's the perfect over open fire or on the grill to really bring out its earthy character and smoky flavor.  
This bacon can be seasoned with delicious spices and can be enjoyed as it is sliced into pieces. And then you can cook the gypsy bacon on a stick, the way it is meant to be made. Gypsy bacon is known for its earthy taste; hence, the reason why you can easily enjoy eating this type of bacon on a stick in a campfire. Gypsy bacon, can be served on slices of rye bread,  with some red onions and beans, giving it a great taste and making a delicious sandwich.  
Remember, it's not just about the different types of bacon that you can enjoy but it is also how you can enjoy those different types of bacon. Gypsy bacon stands out in its own as the bacon that has that earthiest type. The next time you are out in a campfire and you have the taste for bacon, remember to try out the gypsy bacon to satisfy your curiosity.
Read more on what Gypsy Bacon is and How it is Made Here
---
9. Tempeh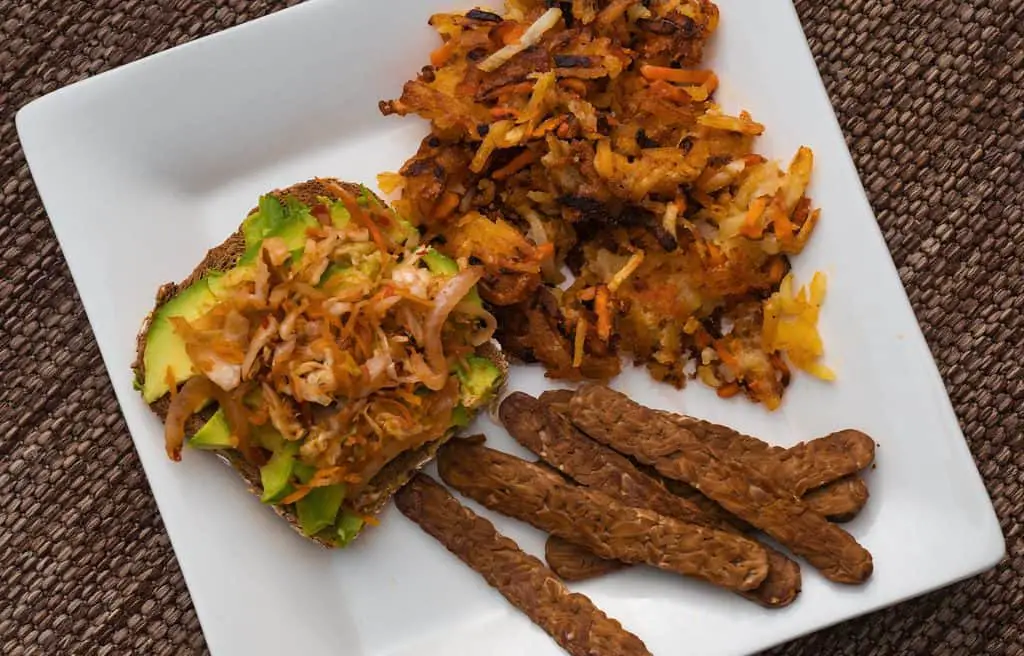 What is Tempeh Bacon
Bacon has that reputation of only being dedicated to meat-eaters, on the account that that bacon is pork and pork is meat in itself. Luckily, there are alternatives that you can use in order to make sure that you are getting that great bacon taste without having to worry about it. Tempeh is a vegan substitute that you can use in order to make tasty substitutes for what you are after.    
Tempeh is a product that is created as a result of the tofu production in Java, an Indonesian product. At first, its creation was led to be believed that it wasn't edible but as we know now, IT IS.  
What you need to know about tempeh is that tempeh has a rich, bold flavor. Because you make bacon out of tempeh, you can also expect that very same rich, bold flavor that tempeh has become known for.
So, if you are looking for a smoky flavored vegan bacon-like delicacy, you should focus your attention on tempeh bacon.
---
10. Coconut Bacon
What is Coconut Bacon
Yes, what you read is true, coconut bacon. It began when a company called Phoney Baloney's started crowdfunding on Indiegogo. That is why this product now exists. Coconut bacon is made with organic coconut and is entirely VEGAN & GLUTEN FREE. It is made from coconut, tamari, maple syrup, liquid smoke, and grapeseed oil, it looks a bit like chopped up bacon.
The downside of this product is that it doesn't respond well to heat or liquid. But it is great to use as topping for salads, sandwiches, or baked potatoes with it.
—– Read More on Coconut Bacon —–
---
11. Pancetta
What is Pancetta Bacon
Pancetta is Italian bacon, that is usually air-dried by tradition for about four months. It is cured with salt, pepper, sugar, herbs, cloves, cinnamon, and nutmeg. You can look at Pancetta as one of the higher-quality and more exquisite types of Bacon that you can get your hands on.  
Pancetta is usually made from the fat and the flesh of the pork belly. You can get Pancetta smoked or you can get it unsmoked. it is usually found as a jelly roll so it can look like a giant sausage. Other times, Pancetta can be flat. Pancetta is also used in various dishes such as Plancetain, Carnesecca, or Rigatino.  
Pancetta has the Italian approval stamp for regional foods When compared to other types of bacon this is a bit less smoked.
---
12. Slab Bacon
What is Slab Bacon
Slab bacon is for bacon lovers who prefer to have their fair share of smoky bacon. Slab bacon is wholly smoked bacon that is sliced into strips. This is often referred to as bacon in its original state.
The slab bacon is that you can slice it in any way that you see fit because it's in its original state. Are you interested in having your bacon be sliced in thin slices, you can have that. Are you interested in having your bacon sliced into thick slices? You can have that.
Are you are interested in having your bacon slices cubed? You can have that, too. Slab bacon allows you to customize your bacon on how you see fit.
---
13. Seitan
What is Seitan Bacon
On your quest to learn as much you can about different types of bacon, there is seitan that can be of interest to you. If you are trying to avoid eating meat directly than seitan would be best for you to try out. Seitan becomes surprisingly similar to the look and texture of meat when cooked, making it a popular meat substitute. It was responsible for updating the "alternative meats" market. If someone says meat people say Bacon and that is why Seitan bacon was made.  
One thing that you need to be aware of is that Seitan is the byproduct of processed food. So, if you are gluten intolerant or trying to eat as natural as possible then you are not going to want to use seitan as a way for you to get your 'bacon fix'.  
With that said, one thing that you need to know about Seitan is that it is highly versatile. You can practically mix the ingredient with anything. You can mix it with grains, tofu, beans, and even the aforementioned Tempeh.  
Seitan can be cooked at different textures in order to get what you need. With that understanding, you can cook your bacon, mix it with different types of seasonings, and create your own Seitan in order to make sure that you are getting that taste of bacon you deserve.
---
14. Beef Bacon
What is Beef Bacon
Until very recently, beef bacon has only been available through Halal butchers, but lately, it's been creeping its way onto supermarket shelves more and more. You can find it at your local Whole Foods. Beef bacon is typically made from the navel (the same fatty cut used for pastrami), and is treated basically the same as pork. The resulting product actually tastes pretty close to beef jerky
Read more on Beef Bacon in our Article Here
---
15. Soy Protein Bacon
What is Soy Protein Bacon
Soy protein bacon is the type of bacon that is pretty divisive. Some people really love soy protein (in the form of bacon) while others can not stand it. The truth is that this depends on your priorities if you are looking to eat soy protein bacon.  
There are companies that are known to just use soy protein as a way to get people to try and eat soy protein as a base for various products – that even includes bacon.  
One thing that needs to be stressed out is that if you are gluten intolerant then you may not want to eat soy protein as bacon.  
Usually, soy protein is combined with other ingredients such as egg whites, soybean oil, white gluten along with various assortments of chemicals. So remember to check the ingredients, if you don't eat eggs then you should consider finding another substitute depending on the manufacturer. But if you have a guilty pleasure of still loving the bacon then you may want to continue with soy protein bacon.  
However, if you prefer eating meat, then you maybe you want to stay away from soy protein bacon as this is probably not what is going to be to your liking.  
---
16. Irish Back Rashers
What is Irish Back Rashers
Rashers are sort of an English phenomenon; it's not likely that you could find a rasher in local stores in North America. Made from the backs of pigs rather the belly in other countries, especially the United States. Both Canadian and Irish bacon is made from the back of pigs giving multiple similarities.  
You can expect your Irish bacon to be cured and incredibly meaty. Be thankful for the excessive fat on Irish bacon because that fat is what gives Irish bacon that 'Irish' taste.  
To enjoy Irish bacon properly, it is key to eat at breakfast. It is very common to eat bacon at breakfast. Of course, it's not required to do so. Irish bacon tends to be much meatier but also leaner.  
Also, remember to look Canadian bacon ("peameal bacon") longer down on the list so you can see which you would prefer.
---
17. Peppered Bacon
What is Peppered Bacon
Peppered bacon is a bacon that is known to have an extra sizzle and peppery taste to it. Peppered bacon is usually seasoned with a layer (or two layers) of black pepper and is properly cured to achieve its signature flavor. But you can also add some with water, salt, and sugar to help the curing and achieve the right taste. It also helps to have grounded pepper to get that proper "peppered" taste.  
Peppered bacon is held as one of the best tasting types of bacon that you can enjoy. It has an earthy and peppery taste that you as a bacon-lover might end up loving.   When you are given the chance to try out peppered bacon, DO IT, it is definitely worth a chance.
---
18. Black Collar Bacon
What is Black Collar Bacon
The 'collar' cut which, you guessed it, comes from the neck, it has a close resemblance to streaky bacon. With a dark, sweet and beautifully marbled with just a hint of warming spice, when cooked to crisp perfection over a gentle heat to caramelize.
To make the Black Collar Bacon they hand-salt and massaged with mace, black pepper, cloves and black treacle which, alongside the naturally dark cut of meat, lends the bacon its distinctive hue before they put it on racks to dry and mature. The total time of this process is around 21 days.
---
19. Jowl Bacon / Pork Jowl
What is Jowl Bacon
Jowl bacon is a delicacy in the Southern United States of America.  It can be compared a bit too streaky bacon.
If you have ever had pork belly bacon, then you may have tried something similar to pork jowl bacon.
The one thing that separates jowl bacon from other types of bacon is that regular Bacon that you are used to cooking has about 33% of fat on it, but jowl bacon has twice the fat. This means that you just have to cook differently than what you are used to. But you can still cure and smoke the bacon itself to get a decent taste from the jowl bacon.  
Jowl bacon can also be chopped up into pieces and sprinkled to add flavor to other meals. That way you can use it as can be garnished for larger meals. You can also just serve it as the main meal. Hog jowl bacon is a very versatile type of bacon that you can really enjoy.
---
20. Prosciutto
What is Prosciutto 
Prosciutto is a type of bacon that is often confused with bacon and even pancetta. Prosciutto does look awfully alike to other already-mentioned products but it's different in its way. Prosciutto is made from the hind of pigs. It's made from the same place where hams are made from. In fact, calling it prosciutto indicates that this type of pork has already been cured properly.  
Usually, the outside of the prosciutto is rubbed with a number of spices in addition to salt. The purpose is to move the flavor throughout the ham as it dries in a timely manner.  
Proscuitto is a very timely task when it comes to making it your self, but it is well worth the wait.   It is one form of bacon that you need to try…just to try out.
---
21. Gammon Bacon/Ham
What is Gammon Bacon/Ham
Gammon bacon is another form of bacon that you can try out. You can have your gammon meat ready for you to eat smoked or not. However, you need to eat it after it's cooked. Gammon is a bit different from ham. One way is that ham is cured after it's cut. Also, the curing process for the gammon is different from ham.  
Gammon is used interchangeably with bacon and ham. Because of this, you may have already had gammon at your Thanksgiving dinner and not even know it – especially if you live in the United States. Either way, by accident or out seeking out gammon, it's worth checking out in getting yourself some gammon when you have the chance.
---
22. Eggplant Bacon
What is Eggplant Bacon
Famously known as the nightshade that you can use to substitute for meaty dinners, eggplant can be used as a way for you to cook substitutes for meat. If soy protein is not something that you are after for a healthy or even a tasty meal, you may look into cooking with eggplant.   Eggplant can be used for a lot of different dishes: burgers, sausages, and even bacon. Eggplant is a great substitute that you can use for your cravings for meat taste.  
Make your own Eggplant Bacon:
So, the question now is, "What type of eggplant can I use to change into a bacon-like food that actually tastes like bacon?" You want to get your hands on the more skinny type of eggplants that are found in China or Japan.
These types of eggplant are preferred when you are looking to create your bacon like a meal from it. If you can't find these eggplants at your local market, then you can focus on getting a sharp vegetable peeler where you can cut thin slices that you can eat as bacon slices.  
The next thing that you can do is fry your eggplant on your stove with the addition of olive oil. Pan-frying your eggplant into bacon means that you don't have to worry about your eggplant burning up and getting scorched by the heat. This also means that you don't have to worry about burning your eggplant into a blackened husk. You have complete control over your eggplant bacon.  
It's natural, it's widely available, and it can help satisfy your cravings for a real bacon meal.
---
23. Canadian Bacon / Peameal Bacon
What is Canadian Bacon
Canadian Bacon or Peameal Bacon as it is also called, is a pork product. It is smoked meat that actually is closer kin to ham than it is to regular bacon in terms of flavor, appearance, and texture. The meat is lean, slightly sweet, and juicy. Unlike regular bacon, this brand of bacon does not crisp up in its own fat while it is being cooked.
In Canada, it is called back bacon and it is taken from the lean, tender eye of the loin, located in the middle of the back. The meat is meant to be served in a soft, juicy stage of cooking, and it will be dry and tasteless if it is allowed to crisp up. It is also usually served in thicker wedges than those used for conventional bacon.
---
24. Buffalo or Bison Bacon
What is Buffalo bacon
There are actually also companies that make Buffalo Bacon. Sayersbrook Bison Ranch is one of those companies. They make their Bacon out of the brisket. Another company is Yankee Farmer's Market hard to tell what part of the buffalo they use for their Buffalo Bacon but it looks really tasty.
We have a feeling that it's probably smoky and quite tasty, but is probably nothing like the real thing. That said, we'd certainly try it.
---
25. Wild Boar Bacon
What is Wild Boar Bacon
The meat of Wild Boar is darker and with a more distinct color. The taste is also more flavor-rich then your domestic pork. But besides that is is made in that it is made in the same way as regular bacon.
Wild Boar Ideal has a beautiful smokey flavor and aroma whether you grill or pan-fry it.
---
26. Szalonna / Hungarian Smoked Bacon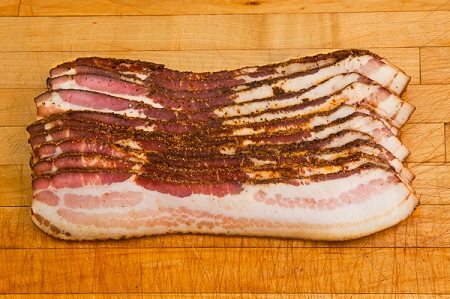 What is Hungarian Smoked Bacon
What we call Hungarian Smoked Bacon is actually called Szalonna. Basically, this means that it is the "fatback made of smoked pork fat with the rind. Szaloona is traditional Hungarian food, which is also the reason that it is called Hungarian Bacon.
Most Szalonna is either smoked or cooked before you can buy it. This is so you don't have to spend time cooking it yourself and skip to the part where you can eat that delicious Hungarian bacon.
The Szalonna is cooked somewhat crispy and is then eaten with other dishes or alone. The fat from the meat is also reused to make a special Szalonna bread. The bread is seasoned with various seasonings such as red onions, green peppers, paprika, and some sliced radishes.
Preparation, cooking, and serving remain a longstanding summer tradition among even second and third generation American Hungarians. One thing that separates Hungarian smoked bacon ("szalonna") is that you can cook the bacon over a pit. This also why it has a big resemblance to Gypsy Bacon listed earlier.      
---
27. Bekon (Bacon from Japan)
What is Bakon
As with bacon from the USA Bekon is made of cured and smoked pork belly meat. But there is another difference between regular bacon and the Japanese Bekon. Bekon is precooked and the consistency can be compared more to ham.
28. Salo (from Russia)
What is Salo
Even Russia has its own type of Bacon, Salo. Salo is called the Bacon of Eastern Europe. The word Salo, in fact, means bacon.
It can be eaten both raw or cooked, depending on what you prefer. As long as the bacon is stored correctly.. As long as the bacon is stored correctly.. The meat consists of cured slabs of fatbacks and is often dry salt-cured.
People prepare their Salo differently based on where they live. Some will serve their Salo featuring things like garlic, salt, and even black pepper. In Russia, Salo is served on bread, with some garlic, as a popular snack, often served with some vodka.
29. Lardon (France)
What is Lardon
This type of Bacon is made from different cuts of the pig. Including fatback and pork belly. But for this to be considered an authentic Lardon, it has to be salt-cured and not smoked.
The taste of Lardon is best compared with a ham that is VERY rich in taste.
Lardon is a fatty type of bacon that is served in small strips or as cubes. Its main use is as flavor in different varieties of foods. Lardon is from France and is often used in the French cuisines
30. Lap Yuk (From China)
What is LAP YUK
Lap Yuk (Cantonese) is an air-cured pork belly with soy sauce, spices, and brown sugar. It is very popular in dishes from Asian.
Lap Yuk is often sold with the rind still on. Sometimes it is also infused with cinnamon and star anise, which gives it a very complex flavor to describe. If you want to try this type of bacon, you will have to go to China, or look in a food market specializing in Asian foods.
31. Samgyeopsal-gui (From Korea)
What is Samgyeopsal
The Korean type of bacon is Samgyeopsal-Gui means "three-layer flesh" The name itself isn't really that delicious but Samgyeopsal can be a really tasty treat.
Unlike other types of bacon, Samgyeopsal isn't traditionally seasoned or marinated. But in later years also marinated versions of Samgyeopsal have become more common. In South Korea they even have a day called "Samgyeopsal Day" it is March 3.
After Thoughts
So now you have seen over 20 different types of bacon. Hopefully, there are some of them that you would like to try out at some point. If you know of any type of bacon that we haven't mentioned here then please don't hesitate to write it in the comments below and then we will try and rectify that ASAP. I hope you liked this article, and if you did please Spread the Love of Bacon. "Go Out and Explore More Bacon!"  
Bacon is more than what you get at your grocery store. Sure, you can place your bacon on the frying pan and call it a day. However, after reading through this list, you need to ask yourself something.  
Are you okay with just trying one form of bacon for the rest of your life? The odds are that you want to try out more flavors of bacon so that you can be able to eat the different types of bacon out there.  
You don't have to spend your entire life stuck to eating just one type of bacon. You can enjoy all of the different types of bacon that do exist. After all, who wants to be the person who missed out on eating the other wonderful types of bacon that are out there.  
The world is a very big place. With that in mind, you can always be a sleuth and find out where each of these delicious types of bacon is. With all of the different types of bacon that do exist, would you like to try more different types of bacon?
You can use this as a reference in order to help you choose that right bacon that you have been dying to eat.  
So, go out and venture outward to explore as many kinds of bacon there is in the world.