What is Duck Bacon?
Duck Bacon is bacon slices made from the breast meat of a duck, rubbed with salt and sugar and then smoked.

After that, it is sliced into a more familiar form of slices as bacon.
But that is not all you need to know on the subject of Duck Bacon. Keep reading and you will get recipes Nutrition facts and more all related to Duck Bacon.
Is Duck Bacon Healthy? (Nutrition)
The short answer is: Yes. Duck Bacon is made from duck breast meat, it has around 50% less fat than traditional pork bacon, depending on different brands.
So yes you will be able to find Duck Bacon which has a way lower fat percent. Just have in mind that sometimes you have to use a bit more oil when cooking Duck Bacon.
Duck Bacon Ingredients
Boneless duck breast
Salt
Brown sugar
Sodium erythorbate
Sodium nitrite.
Duck Bacon Nutrition Facts:
| | |
| --- | --- |
| Serving Size – 1 slice (30g): | |
| Calories | 60 |
| Sat Fat | 1.5g |
| Total Fat | 5g |
| Cholest | 35mg |
| Sodium | 290mg |
| Total Carb | Less than 1g |
| Protein | 5g |
The Nutrition and Ingredients information is supplied by the Duck Bacon manufacture.
How do you Cook Duck Bacon?
A few minutes in a skillet or in the oven, it's crisp, delicious and ready to serve.
As with normal pork bacon, start with a cold pan then cook over medium to low heat, until desired crispness. Then place on a plate with paper towel so you can drain the fat.
When Can I use Duck Bacon?
Duck bacon can be used just as you'd use normal bacon. Just make sure to check if the recipe is dependent on some of the fat from the bacon to cook, If so then just add a small amount of oil.
Where to Buy Duck Bacon?
It is not something you normally can get from your local store but some meat markets do have. Online you can get it from a few places
What does duck bacon taste like?
Here is a video taste test for you to enjoy. I am not going to spoil the result by writing it here.
Duck Bacon recipe
Yield: 4 Servings
Duck Bacon Winter Hash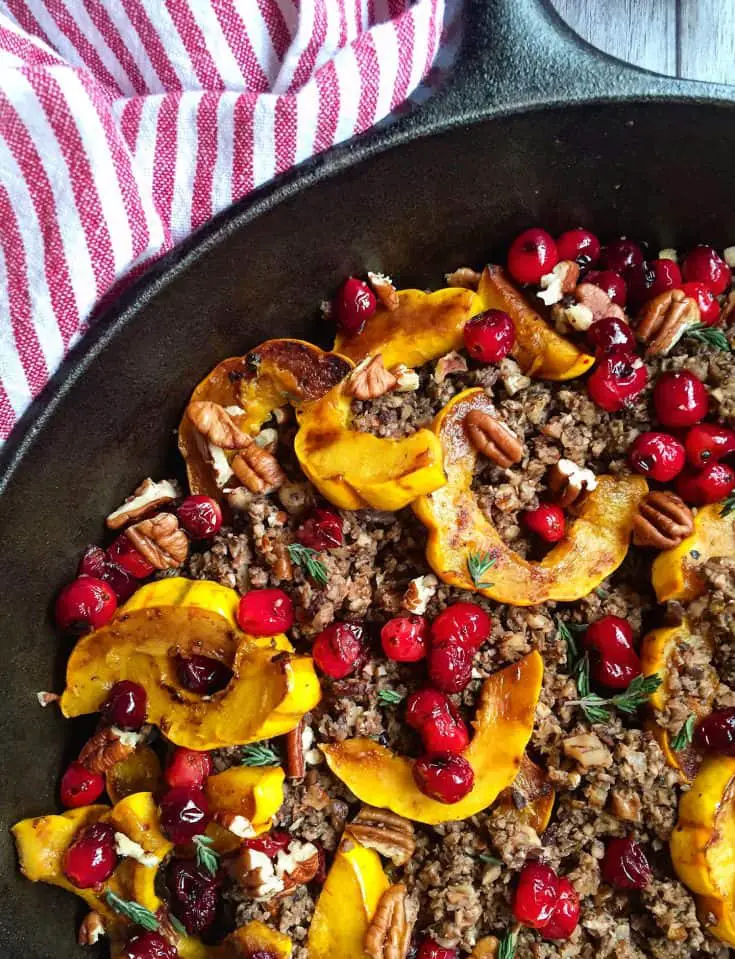 This is a great winter dinner dish. With great flavor and substance.
Ingredients
4 ounces bacon (D'Artagnan duck)
1 pound delicata squash
2 tablespoons coconut oil (divided, if necessary)
1 pound mushrooms
1 cup cranberries
1 cup pecans
1 teaspoon fresh thyme leaves
1/2 teaspoon salt (or to taste)
1/4 teaspoon black pepper
Instructions
In a dry skillet over medium heat, cook the bacon until crispy then remove to a paper towel-lined plate to drain.

Slice the delicata squash open lengthwise, and scrape out the seeds with a spoon. Slice each squash half into half-moons about ¼ - ½ inch thick. Cook in a single layer in the hot bacon fat for 2-4 minutes on each side, in batches if necessary, until browned and soft. Remove and set aside.

Add a tablespoon of coconut oil or other fat of choice if the skillet is dry, then cook the cranberries in the bacon fat, stirring occasionally, for 3-5 minutes until beginning to split and soften. Remove from the skillet and set aside

While the cranberries cook, load the mushrooms and cooked bacon into a food processor and pulse to a fine shred. Alternatively, dice very finely. When the cranberries have been removed from the skillet, add the second tablespoon of coconut oil if the skillet is too dry and cook the mushroom and bacon mixture with the salt and pepper until soft, reduced in size, and beginning to render moisture. Add the cooked delicata squash and cooked cranberries back to the skillet and toss to combine. Chop the pecans (or pulse in a food processor) and add to the hash along with the thyme and toss to combine. Remove from the heat and set aside for 10 minutes to allow the flavors to meld, then serve warm.
Is Duck Bacon Halal or Haram?
Duck is Halal and therefore you should be able to eat it. But of course, you have to check each of the suppliers to see if they include some ingredients/chemicals that are Haram, link below. You can check here for Chemicals that are considered Haram.
We haven't found a specific brand that advertises that they are Halal but we have found and written another article about Halal Bacon here. (One reason for this is that there aren't that many manufactures)