Gypsy bacon is well known since it is an old-fashioned type of bacon that has been there for so many years.
The gypsy community world-wide has prepared it over the years using paprika and garlic making it irresistible to eat.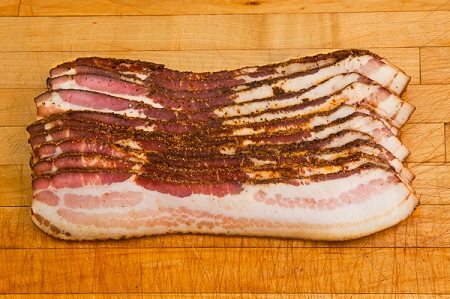 What is Gypsy Bacon
It is similar to Hungarian bacon which is a Hungary traditional cuisine. It is a piece of smoke-cured bacon with a hard top layer known as the rind.
For an enjoyable delicacy at your backyard with your loved ones', gypsy bacon and a cold beer are the best meal ever. It comes in a full pack of a tasty flavor that leaves you asking for more. Although it is cured, the bacon needs some cooking to make it yummier and healthy to eat. Note that one should hold it over the fire when the rind is still on.
Also, See Our Great Article on 30+ Types of Bacon Here.
How to Roast Hungarian Bacon (Gypsy Style)
Remember to check further down in the article where
I will share more videos of some Gypsy Bacon cooking.
Other names for Gypsy Bacon
Also Know As: Ciganyszalonna or Hungarian Bacon
German: Zigeunerspeck
Where to Buy Gypsy Bacon
If you are looking to buy Gypsy Bacon into stores then you need to go to the Hungarian or German delis or meat stores. Even some Russian stores have this.
The best way to have your gypsy bacon cooked is to use a grill or an open fire in order to bring out the smoky flavor which attracts you from a distance due to its sweet smell.
Gypsy Bacon recipes
Here I have found some videos with authentic recipes for you to enjoy. Sorry that some of the videos aren't of the highest quality.
How is gypsy bacon prepared?
First, cut through the rind and make approximately 1-inch-deep and then cut it into small squares of about 3 by 3 inches. Season it with some spices to add some flavor. Take a skewer or a long fork and use it as a holder by sticking either of the objects to the bacon.
Have the bacon over the fire and wait for it to sizzle until the rind shrinks and curls. when it is completely cooked sprinkle some paprika and garlic which gives a mouth-watering taste.
To remove the bacon from the skewer hold it with a piece of rye bread which you fold around it and pull off the skewer or the folk.
Finally, garnish it with fresh sweet red onions that should be thinly sliced and also have some baked beans.
Serve with a cold drink of your choice to make it complete. Cold beer is the most advisable drink.
The fat collected from the gypsy bacon when burning it is used on the vegetables which are prepared separately to complete the meal and make it more attractive. The vegetables should be fresh and well chopped, they may include onions, tomatoes, peppers radishes, and lettuce.
The main purpose of the fat is to dress the vegetable salad. otherwise, you can let the fat drip on the rye bread. Don't hear stories from others, have the opportunity to experience this yummy cuisine for yourself.