There is a long list of varieties of bacon. One popular item in this long list is collar bacon.
Collar bacon is made from meat cut on the shoulder region just below the neck of pork. The meat on this part of the pig becomes really tender and juicy when roasted or otherwise cooked.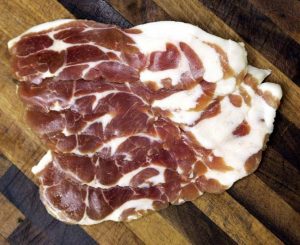 This is because the meat is marbled with fat that makes the taste full of flavor.
Not very many people have had the opportunity to try out collar bacon as it is not very common. Those who have had the pleasure however say that it is most definitely one of the tastiest forms of bacon they have ever tasted. The meat around the collar region has a slightly darker complexion as compared to other parts.
How To Cure Collar Bacon
There are two well-known methods of curing most forms of bacon. Collar bacon is no exception.
First there is the traditional dry curing process. In this process, natural sea-salt and sugars are used. A mixture of Sea-salt and sugar is rubbed onto the meat being cured after which the meat is left to cure for some days. Once cured, the meat is to be air-dried for a specified period of time.
The intention of rubbing sea-salt is to drain off all water from the meat. Since very long ago, dry curing has produced excellent results. Meat resulting from dry curing can last for long periods of time. At the same time, health risks are maintained at minimal since chemicals are rarely used. Dry-cured collar bacon is excellent for breakfast dishes.
The alternative to dry curing would be wet curing. Now this involves the use of brine which basically includes sodium nitrite. Sodium nitrite not only prevents the thriving of harmful organisms but also gives the meat an attractive appearance and flavor. This too of course is carried out in steps for a specified period of time.
Maple syrup is commonly used in both curing processes.
Smoking is vital especially in case of wet curing. The aim of smoking is to give the bacon the original 'bacon taste'. Some people prefer to use liquid smoke for this process whereas others are still in favor of the traditional smoking formula of smoking the meat over fruitwoods.
Cooking recipes after this will vary depending on the preferences of the cook. It is advisable to keep trying out new recipes and remain open to suggestions.
Applications Of Collar Bacon
Collar Bacon has received a lot of praise for auguring well with pasta dishes, and sandwiches. However, more and more suggestions are coming up and it is advisable to keep our ears open for new recipes.
Here is a video on how you can also make some great Collar Bacon